Ethiopia: International Airport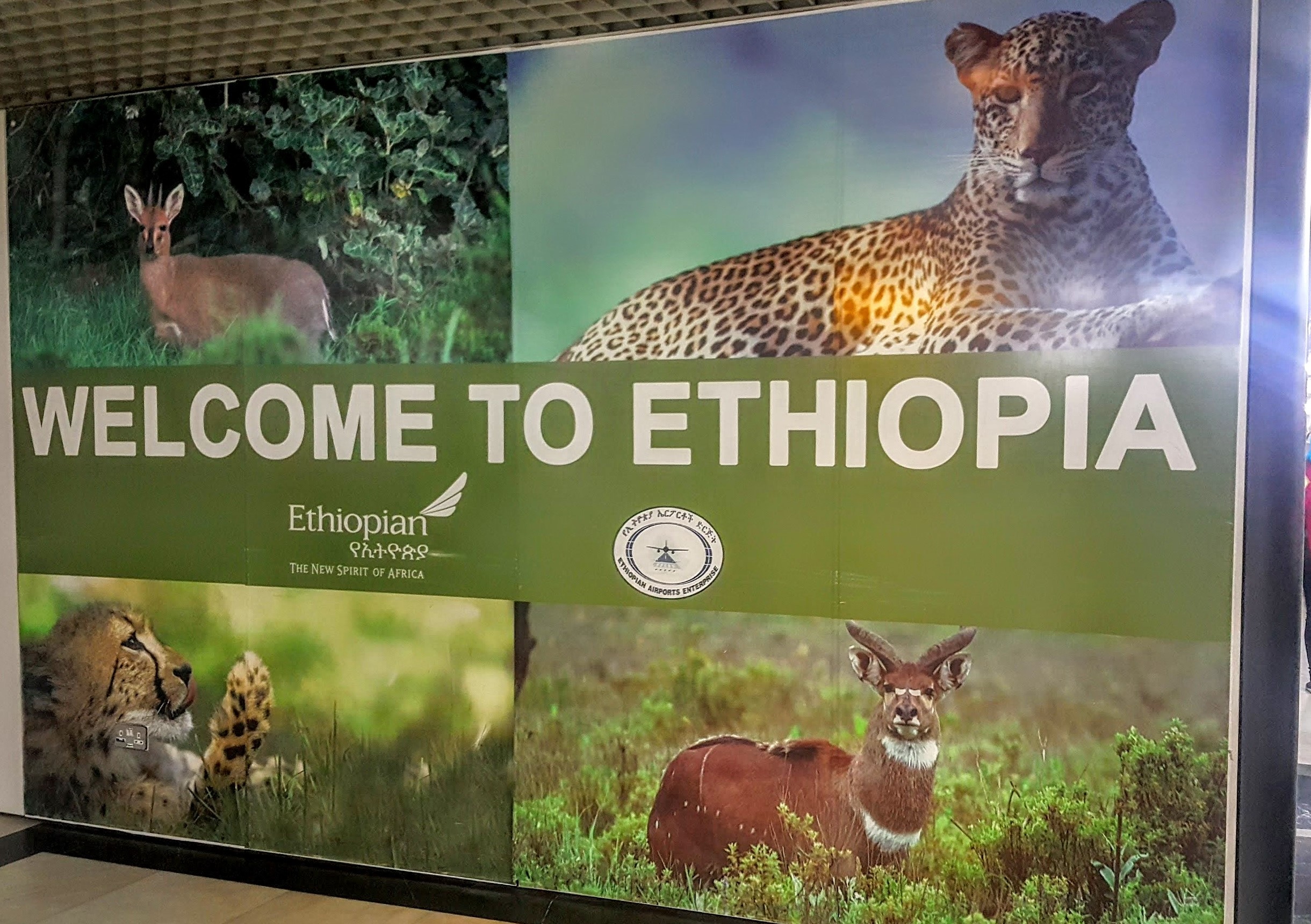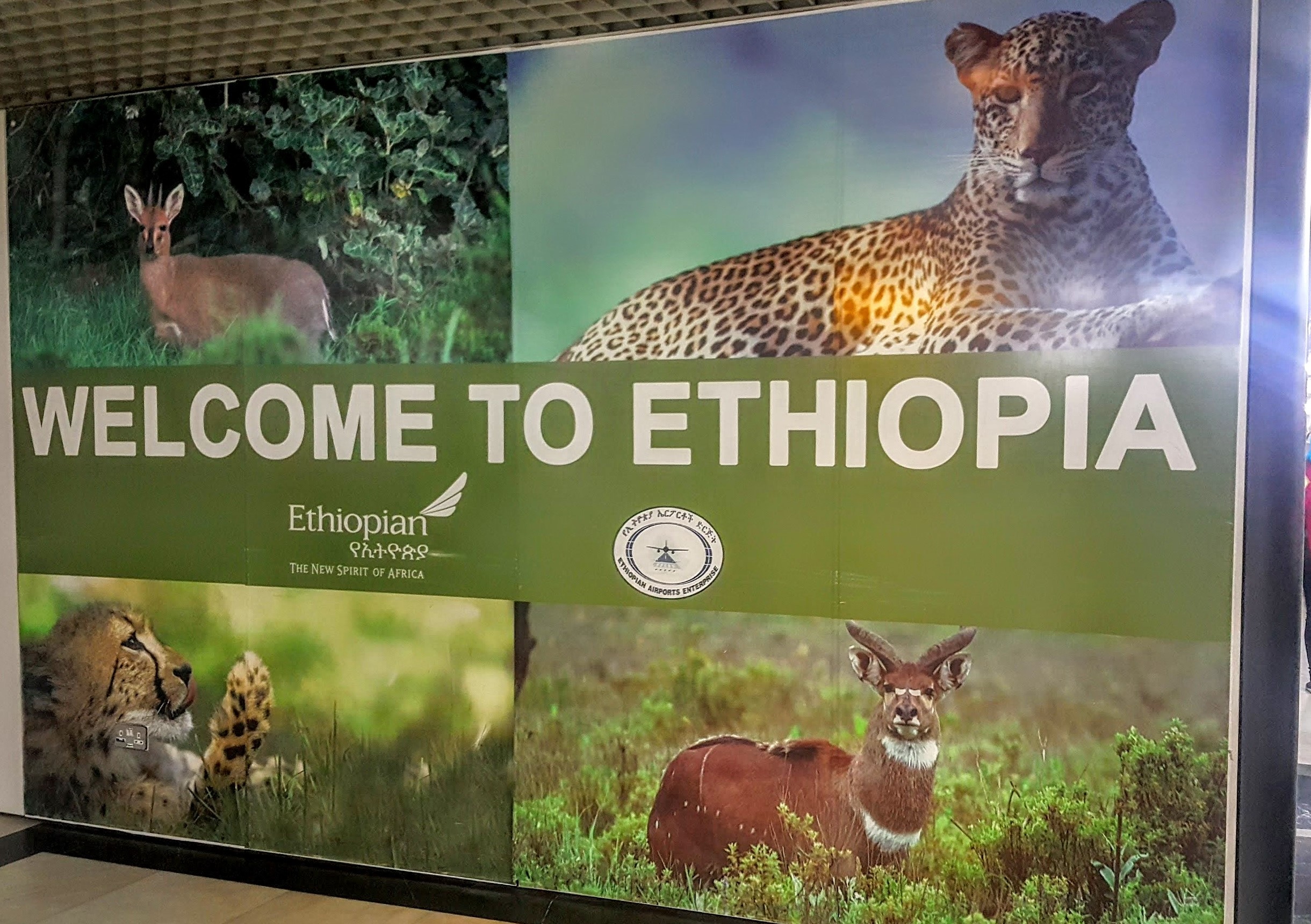 Arriving at Bole International Airport, Addis Ababa.
 Airport Immigration
Bole International Airport is the largest international airport in Addis Ababa the capital of Ethiopia. Bole airport at Addis Ababa was old and small, although coming from Manila, it did not shock me. Bole International Airport can be compared to Manila International Airport Terminal 1 and Soekarno–Hatta International Airport, Jakarta. Do not expect any duty-free shop, amenities or services on arrival. Ethiopia has a power crisis and there is always some power interruption even at the airport. We arrived around 6:00 – 7:00 in the morning local time at Bole airport in Addis Ababa and there was no one at the immigration window. The immigration officers at the airport were sitting at the back and I had to call their attention (to do their work). Since my visa endorsement from Ethiopian Airline was only a scanned handwritten paper I was feeling a bit nervous if that was enough. My passport and visa endorsement were passed between two immigration officers. The immigration officer at the back was looking at a large record book, most likely searching for the copy of the handwritten document. While waiting the electricity went out and everything went black. After a minute the electricity went back. The immigration officer at back searching at the large record book took my passport and gave me a receipt paper with a $50 USD written on it and asked me to go to the back of the immigration window office. I thought that immigration officer asked me to go in through the back door but instead, there is another separate window for the payment at the back of the immigration window office. I paid the $50 USD and the cashier asked me to go back at the front of immigration window. By the time I went back the queue was starting to build. But there was not a real queue because they ask you come back and there is no system or signage for queuing for the first arrivals at the windows and the returnees after paying. You need to remember which immigration window and immigration officer you first approached and get the attention to give back the paid receipt. I waited again for my paper and passport were passed back and forth again inside the office. The immigration officer at the window looked lost and kept asking his colleagues what to do. Eventually, the immigration officer gave back my passport with stamp and receipt. My biggest MISTAKE was not to look at the date (number of days) written on the passport. Normally if you pay $50 USD the minimum number of stay you should get as a tourist is 30 days. Instead, the immigration officer only gave me 7 days! Which, I found of too late when I arrived at the hotel.
Airport Pick-up
The ordeal was not finished after passing the airport immigration. Once you get out the airport arrival area, the parking and pick-up area is a bit of a walk from the airport exit. It is ideal that you arrange an airport pick-up from the hotel you are staying. There are taxi and car for rent by airport exit but it can be pricey especially if they see that you are a foreigner, a local Ethiopian can negotiate a better price knowing the real cost. The taxi on standby can be as expensive or more expensive than the taxi and car for rent in the airport. Do not be fooled by the looks that the car is older it will be cheaper. Always be prepared to negotiate. Although for most travelers after a tiring long-haul flight, there is not much patience to negotiate and may take the first taxi they get even if it is expensive. The pick-up-parking area at Bole airport is a mess.
The hotel coordinator thought that our arrival was from the previous day looking at our flight departure instead of our flight arrival.  The hotel van parked a bit far from where we were waiting and there were some people who offered to help us with our luggage and asked us to pay after. There is no such thing as free-friendly-help.
Foreign phones (network)
We were extremely unlucky that when we arrived the government decided to implement to deactivate all foreign phone network. Our mobile roaming service was blocked, and to make it worse there was no sim card or phone card for sale in the airport. AND to make it even worse we cannot find our hotel van that was supposed to pick us up. We had no means to contact the hotel and search the van. There was someone who helped us call the hotel for the airport pick-up (who later asked for some money for using his phone). Although I heard that the blocking of foreign phones was only a trial and foreign mobile roaming network is now working.
Before deciding to go to Ethiopia I was reading several reviews that the people are friendly. I did not check when the reviews were published. I definitely did not have a warm friendly experience when I arrived.
TIPS and What to Expect on Arrival at Bole International Airport, Addis Ababa
SEARCH for the immigration window
IF there is no queue at the immigration, be ASSERTIVE to get the attention of some of the immigration officer inside. There will be people who will not follow the queue and try to get ahead of others
REMEMBER which window and immigration officer you first approached and who has your passport
CHECK the date and length of stay written on your visa before leaving the window.
MINIMUM number of days for tourist should be 30
GET an airport pick-up from hotel
ENSURE and ASK FOR CONFIRMATION on the date and time of pick-up from hotel
DO NOT EXPECT to get a sim card and phone card from the hotel
There is NO RESTAURANT or food stall at airport arrival
Be prepared to NEGOTIATE if you are getting a taxi
People will offer help and they will ask you to PAY
Bole International Airport, Addis Ababa, Ethiopia
Contact
(+251)11 665 0400
(+251)11 665 0499
Map 
NOTE: This is only based on my personal experience. Others could have been (hopefully) luckier than me to have a smooth, easy and better first-time arrival experience at the airport. Please feel free to share your own experience in the comment section to have a wider perspective for the readers.