Travel to Ouazzane, Morocco if you are going to Chefcheouen and you like dried figs, dates and have an authentic Moroccan robe souvenir. Stop by Ouazzane to have a quiet and peaceful time away from the tourist.
Ouazzane is a province north of Morocco. It is near the more popular city of Morocco – Chefcheouen. Ouazzane is a small agricultural and artisan area. The artisans in Ouazzane weave and sew traditional Moroccan clothes that are long dresses with long sleeves. Best souvenir to buy in Ouazzane are dried fruits such as dates and fig which are done in the area and are very cheap. Other places in Morocco buy the cheap dried fruits and traditional clothes in Ouazzane and resell it at a higher price.
The province of Ouazzane is very religious and no alcoholic drinks are allowed. It is a very laid back province. Small streets at the Medina of Ouazzane are colored green giving its own unique charm.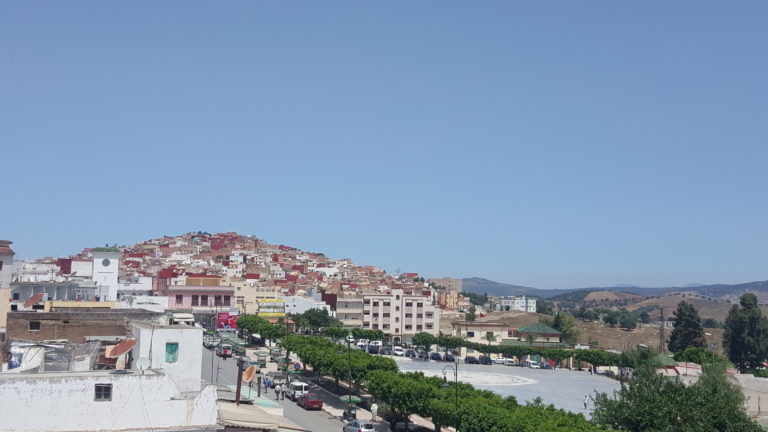 What to buy in Ouazzane
Dried Fruits
Figs and dates are very cheap to buy in Ouazzane. These delicacies which are expensive in other areas. Ouazzane is the best place to go if you like sweet dried figs and dates.
Dried prunes
Dates
Dried Figs
Traditional Moroccan Clothes
Ouazzane is an artisan place of handwoven fabrics which are handsewn and embroidered into robes and dresses. the dresses and robes are long with long sleeves which can be worn during summer and winter. If you are looking for a souvenir of authentic handwoven and handmade traditional Moroccan clothes, Ouazzane is a good area to visit.
How to go to Ouazzane
Train-Bus
Take the ONCF train and go down at Souk Al Abraa station. If you are booking online select the station to Chefchaouen.
There is a connecting (Supratour) bus from the train. You can pay the connecting bus directly from train booking.
Take the bus going to Chefcheouen and go down at Ouazzane.
Bus
Another option to go to Ouazzane is by bus. There is the main bus station in Ouazzane that goes to Casablanca and vice-versa. Buses also go to Tangier.
Check previous post on Morocco: Public Transportation
Where to stay in Ouazzane
Ouazzane is not a tourist area. There are not many hotel options. Near the plaza area, there are some hotels. The hotels are small and basic, only offering a bedroom and toilet to stay for the night. There provide service, no restaurant, and no amenities in the hotel
Travel Tips
Good Points
There are no annoying freelance tourist guides offering their service
Taxi drivers are honest and fair – not giving a foreign rate
Experience a quiet authentic Moroccan town with no touristy frills
Not-So-Good-Points
Not many choices for hotels. There are only basic low standard hotels that do not serve breakfast, no room service, no wi-fi, no amenities. Think of basic rooms with bed and toilet for rent per night.
Not much choice for restaurants. There are only local spots to eat Moroccan dishes such as tajine and kebab.